C
o
d
e
r
e
v
i
e
w
s
i
n
r
e
c
o
r
d
t
i
m
e
.
Shorten the review cycle with an all-in-one platform for efficient code reviews.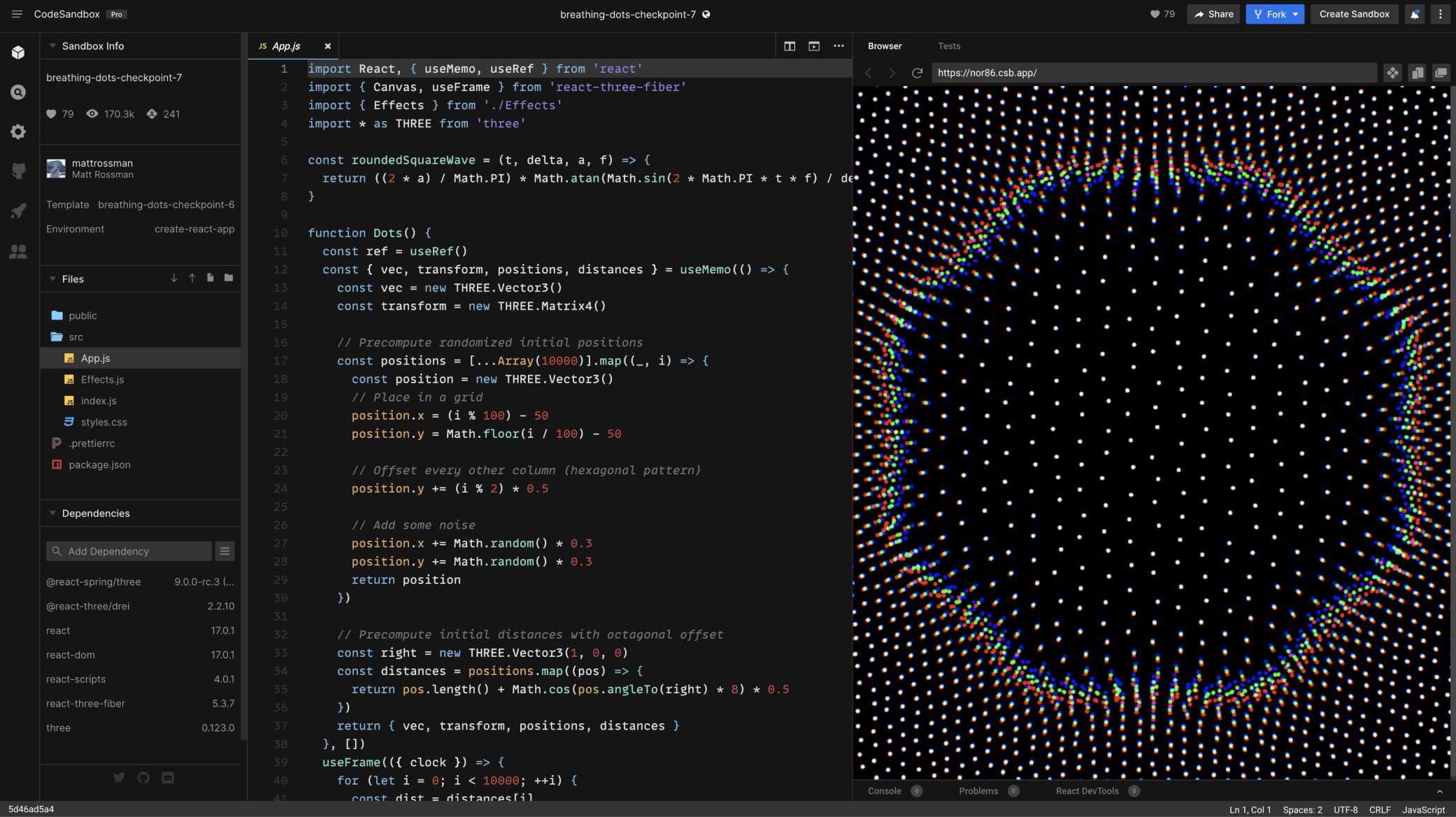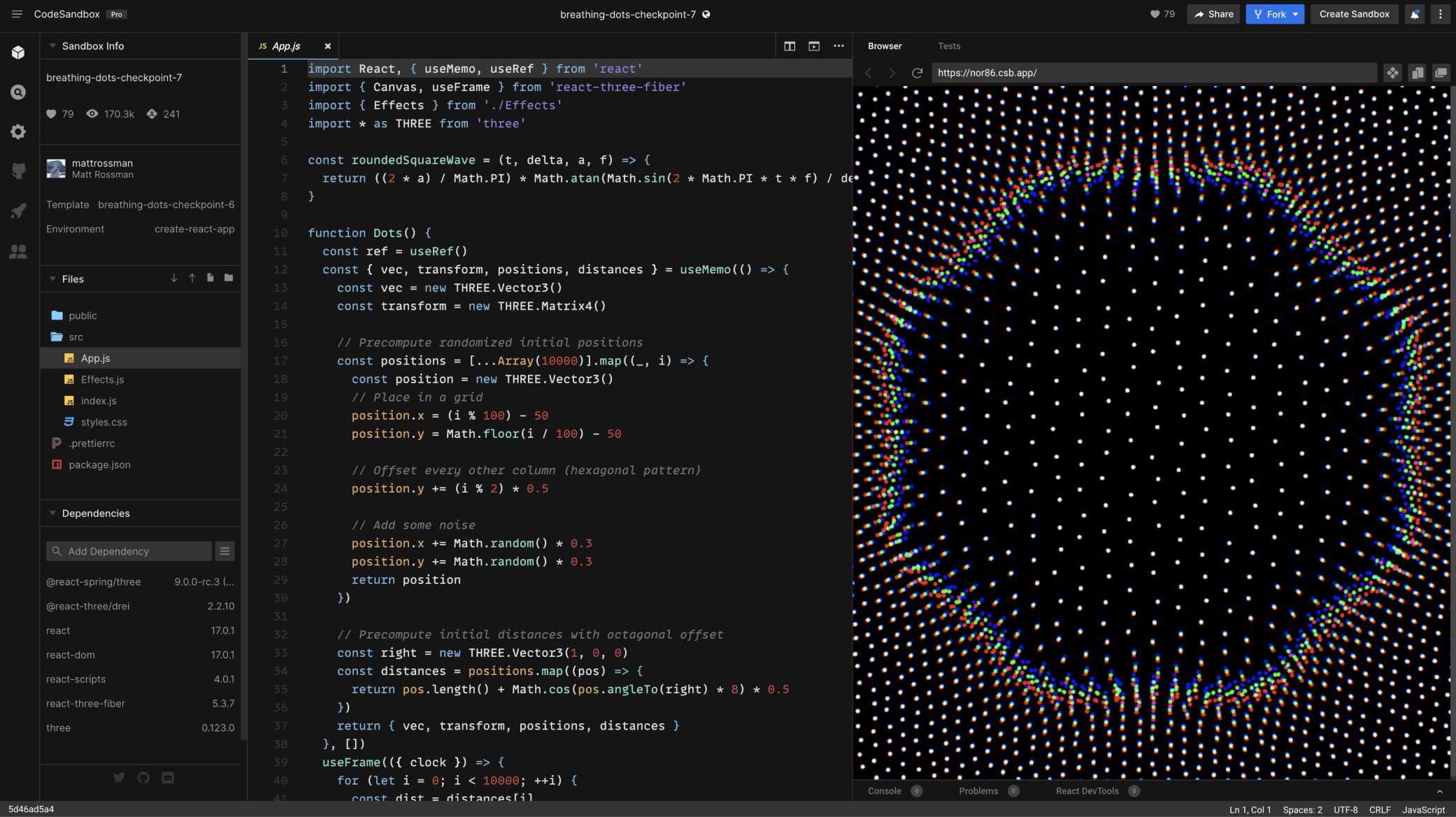 code_blocks
A live dev environment for every PR.
Get every branch and PR automatically running on a powerful dev environment.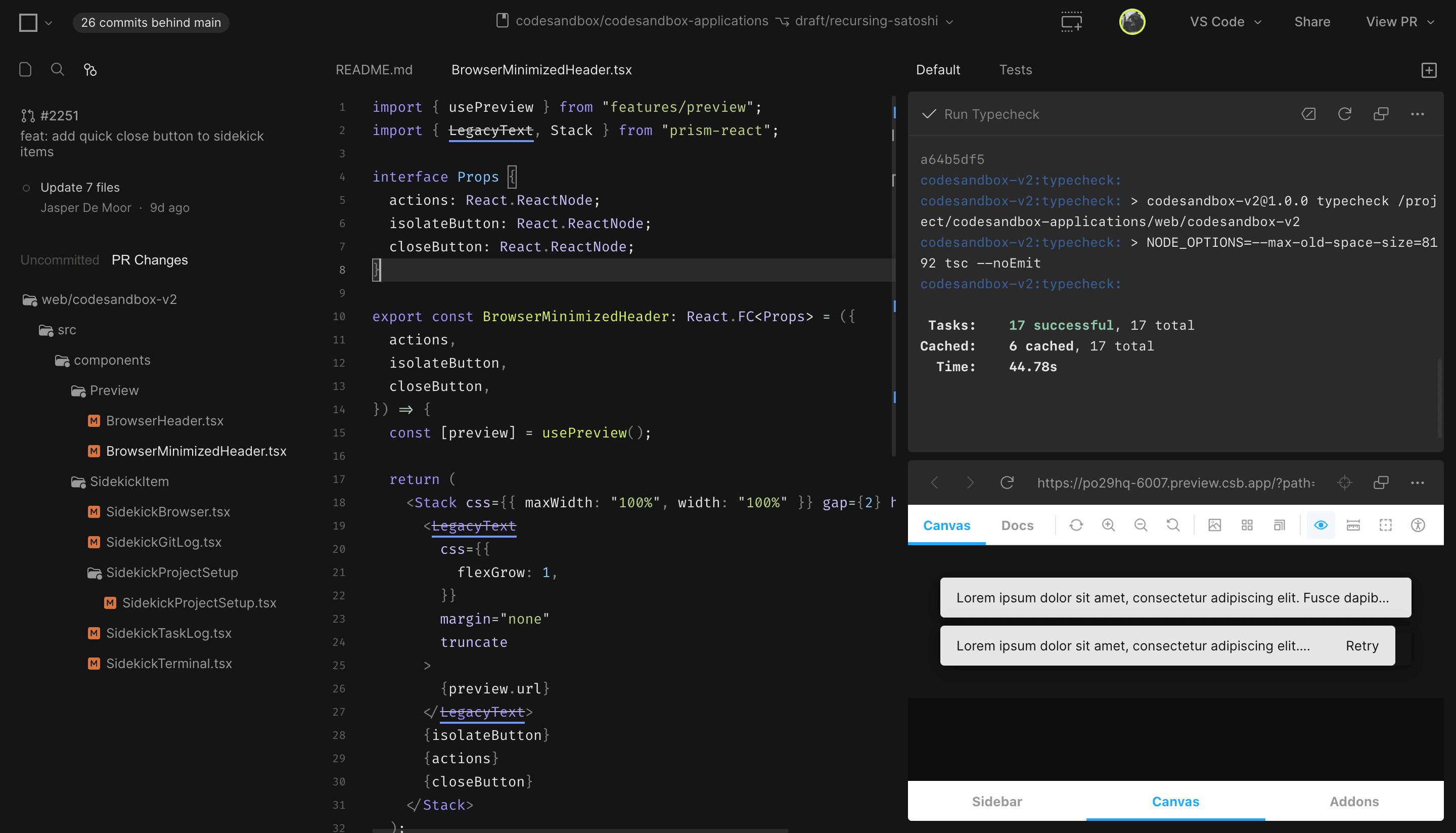 CodeSandbox GitHub App
We provision always-running environments for every PR, making it easy for anyone to open it and immediately start reviewing your code, no setup needed.
Editable deployment previews
By clicking a URL, anyone in your team can preview your code, leave comments, and approve the PR with a click.
Add databases and servers
Because we run Docker, you can configure your database to run in CodeSandbox. This way, you have a unique database for every pull request and every branch.
"
I looked at a PR, made some changes together, previewed them live and pushed them. All without checking out anything locally. This probably saved me 1 hour right now!

TkDodo,

Frontend Tech Lead at Adverity
microVMs
Unleash the power of the cloud.
Save 5+ hours per week per developer.
microVMs
Give every developer a powerful microVM that outperforms any laptop and ensures consistency.
Code always ready
Open any environment with a click and it will resume in 1 second. This cuts onboarding time by 90%.
Virtually limitless
Use the built-in Docker support to run anything: servers, databases, microservices, and much more.
Plug and Play
Integrate seamlessly with your dev setup.
Get all the benefits of cloud development working flawlessly alongside your current setup.
devices
Use the editor of your choice
Switch between VS Code, our web editor or our iOS app and keep coding and collaborating without skipping a beat.
GitHub integration
Review PRs in record time and get automatic deployment previews.
web_asset
DevTools
Use our powerful DevTools to automate tests and deployments, working perfectly with your current CI/CD.
P
r
i
v
a
t
e
,
r
e
l
i
a
b
l
e
,
s
e
c
u
r
e
.
CodeSandbox continues to amaze me every day.
Peggy Rayzis
Engineering Manager, Apollo GraphQL
Trusted by thousands of developers and companies.
It dramatically improved my experience of sharing ideas.

Brian Vaughn
Software Engineer, React Team
It feels much more like my local environment.
Jonnie Hallman
Designer Developer, Stripe